TracPhone® FB250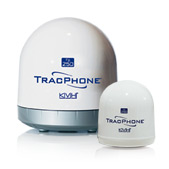 A Compact FleetBroadband System for Leisure Yachts and Workboats
The TracPhone FB250 is the perfect solution for owners of leisure craft who desire or require the same Internet experience at sea that they enjoy at home and in the office. The compact, low-profile antenna will bring lightening-fast broadband connections and simultaneous, reliable telephone service to your boat at an affordable rate. Best of all, the system's compact design is easy to install and looks great on any boat.
This system provides easy, global access to e-mail, Internet, and Virtual Private Networks (VPNs), as well as telephone services, creating an "office at sea" that can travel with you wherever you go. With the TracPhone FB250, you will enjoy Internet and telephone connections just like the ones you have at home.
By keeping your passengers and crew happy and connected to home, as well as maintaining a high level of safety and efficiency on your vessel, you are making an investment in your boat that will be valuable for years to come.
Founded in 1979 and supporting more than 225,000 users worldwide, Inmarsat is the world leader in mobile satellite communications.
Please note: Coverage for the Pacific Ocean region will be available in late 2008. See the FleetBroadband coverage map for more details.
If you need to switch easily between multiple TracPhone satellite communications systems, KVH also offers an optional Service Selector. This simple solution allows you enjoy the benefits of both the mini-VSAT Broadband and Inmarsat services when you need them.
Check out KVH's complementary TracVision M5 Satellite Television System, with the same size and styling, for the perfect match on your boat.
Highlights:
Uses powerful FleetBroadband service from Inmarsat – the undisputed leader in global mobile satellite communications
Available in two sizes: an 11.8" (30 cm) high compact dome, or a 21" (53 cm) high dome to match the TracVision M5 satellite TV system
Pay-as-you-go plans so you pay only for what you use1
Internet connections with speeds as high as 256 Kbps (uncompressed)2
Always-on connection for e-mail, Internet and Intranet (via secure VPN)
1 $19.95 monthly access fee will apply.
2 KVH's Velocity™ Acceleration software boosts uncompressed FleetBroadband data rates by as much as 200%. Velocity Acceleration is available with Inmarsat Airtime by KVH. Rates using Velocity Acceleration may vary based on content being transferred.
Pricing:
KVH products are sold and installed by an authorized network of qualified installers around the world. In order to receive a system and installation quotation, go to "Where to Buy" and find the KVH dealer/distributor nearest to you.