TracPhone® V7 Leisure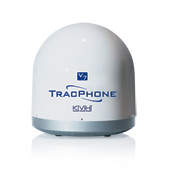 A powerful solution for broadband connections that leaves all other satellite services in its wake!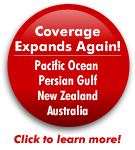 Now you can rely on broadband at sea the way it was meant to be thanks to the revolutionary TracPhone V7 with mini-VSAT Broadband service, the newest, most affordable option in marine communications. It's the ideal way for you, your passengers, and your crew to stay connected with the same high-quality broadband data connections you use onshore.
Enjoy high-quality, consistent, always-on broadband data connections, multiple Voice over IP (VoIP) telephone lines, and reasonable service costs thanks to mini-VSAT Broadband's modern spread spectrum satellite technology. This powerful new service is available via the rugged 24" (60 cm) KVH TracPhone V7 antenna. A fraction of the size of standard 1-meter VSAT systems, the TracPhone V7 and its fully integrated below-decks modem and control unit offer easy connections to shipboard networks, fully stabilized tracking, a remarkable reduction in the cost of hardware and installation, and all with no compromise in performance!
In fact, mini-VSAT Broadband creates a "cable modem" experience at sea while offering great coverage, outstanding network traffic management, and consistent performance. The result? You get exactly what you expect with regard to service speeds, reliability, and unlimited access, all for much less than what you're used to paying. Plus, the optional crew calling system makes it easy to offer crew and charter guests access to a dedicated VoIP line.
In addition, when you activate your system, you also get FREE access to KVH's Velocity™ Acceleration software. When installed on your PC, this software optimizes and speeds up your data connections via the mini-VSAT Broadband service.
Customers who demand an enterprise-grade fax solution should take advantage of KVH's optional accessory - the UCH-250 Fax Server.
If you need to switch easily between multiple TracPhone satellite communications systems, KVH also offers an optional Service Selector. This simple solution allows you enjoy the benefits of both the mini-VSAT Broadband and Inmarsat services when you need them.
Highlights:
New groundbreaking spread spectrum satellite communications technology offers seamless regional roaming, and is ideal for heavy data use
Rugged TracPhone V7 is 85% smaller and 75% lighter than standard VSAT antennas so it's easier to install and less expensive to operate; also available in larger dome to match the TracVision M9.
Data rates as fast as 512 Kbps for ship-to-shore transmissions and as fast as 2 Mbps for shore-to-ship downloads as well as crystal-clear VoIP telephone service
Dynamic, gyro-stabilized tracking and military-grade modem for outstanding performance along with onboard networking via an integrated WiFi and Ethernet hub
Choice of always-on, fixed price or per-megabyte subscription plans and easy, 1-call activation; plus KVH as your single point of contact for sales, installation, activation, and support!
Pricing:
KVH products are sold and installed by an authorized network of qualified installers around the world. In order to receive a system and installation quotation, go to "Where to Buy" and find the KVH dealer/distributor nearest to you.