TracVision® M1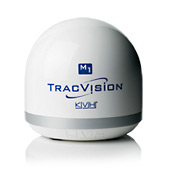 Big Fun in a Small Package – Easy to Install, Easy to Use, and Easy to Enjoy!
Miss your home theatre when you're using your boat? No problem – KVH's new, ultra-compact 12.5" TracVision M1 antenna allows you to enjoy hundreds of channels of high-quality satellite TV programming from DIRECTV while at the dock, sailing, or cruising around the continental U.S. and coastal waters.
Weighing just 7.5 lbs., the in-motion TracVision M1 is the world's smallest and lightest satellite TV system for boats. It offers the rock-solid open water tracking and in-motion performance you might expect from a larger antenna, while fitting the sleek exterior design of vessels as small as 20 feet. Best of all, the TracVision M1's small size, easy setup, Whisper Drive™ motor technology, and versatile mounting options (including the exclusive M1 Pole Mount) mean you can install it wherever is most convenient for you.
Thanks to KVH's exclusive RingFire™ technology, the TracVision M1 offers higher signal gain than any competing antenna in its class. This all-digital satellite TV system connects you to the DIRECTV programming you enjoy. When you choose KVH's TracVision M1, you'll get the best shows on H20!.
See the TracVision M1 introduction at Ft. Lauderdale 2008
NEW!! Check out the interactive TracVision M1 ad
Highlights:
World's smallest and lightest in-motion satellite TV system, only 12.5" D. antenna and 7.5 lbs.
Includes deluxe integrated 12V mobile DIRECTV receiver/controller and backlit RF/IR remote control – everything you need for satellite TV onboard in one box1
KVH's exclusive RingFire technology provides the highest signal gain for coverage throughout the continental U.S. and its coastal waters (and for extended coverage, check out the M1's big brothers - TracVision M3ST and M3DX)
Ultra-quiet Whisper Drive™ motor technology, no cable wrap, single-cable install, and an exclusive, user-friendly onscreen system set-up and control
Fully automatic satellite acquisition and satellite switching via remote control just like at home!
1 Television and DIRECTV service subscription not included. Ku-band standard-definition DIRECTV programming only.