NavNet 3D - Marine Monitors - MU170C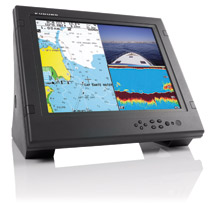 The FURUNO MU170C is a multi-purpose display that features the unmatched Furuno quality and reliability that you have learned to depend on. This 17" color monitor features a wide range of interface capabilities that will accommodate virtually all of your marine display needs.
The MU170C utilizes an extremely bright color TFT LCD with a special AR (anti-reflective) glass filter to cut down on annoying glare. With it's bright colors, excellent contrast and wide viewing angles, this monitor is perfect for any tropical sunlight or low light conditions. The MU170C is an SXGA 1280 x 1024 display.
It features a wide variety of inputs including: 2 RGB analog, 1 DVI-D (Digital Video Interface) and 3 NTSC/PAL video inputs. The MU170C may be used as either the main or remote display for a variety of marine equipment, such as Black Box radar, sounders, sonar and, NavNet. It can also be used for displaying security cameras, video equipment, computers, etc.
The MU170C has Picture In Picture (PIP) capability with 3 NTSC/PAL inputs. The display can overlay a video window on top of the main display. This PIP window can be resized and repositioned to anywhere on the screen. Use the PIP function to monitor security cameras, engine room cameras or even your satellite TV.
Standard Features:
Crystal clear 17" marine grade monitor for use as main or remote display
Resolution: 1280 x 1024 SXGA
1000 cd/m2 brightness and scratch resistant A/R coating allows superior viewability in direct sunlight
Wide range of inputs: 2 RGB analog, 1 Digital Video Interface (DVI-D) and 3 NTSC/PAL
Fully dimmable
Any three of the NTSC inputs are PIP (Picture-In-Picture) capable with adjustable size and screen location
I/R Remote control included as standard supply
Table Top or Flush Mountable (table top mounting bracket is optional)
Waterproof Tested to IPX5 standard (from front)
Customizable input names for easy on-the-fly identification and switching between onboard radar, sonar, sounder, camera, etc.
Exceptional viewing angle, (left/right 80 degrees, up/down 75 degrees)
Automatic signal input recognition and scaling for easy setup and installation
Dedicated push-buttons for changing monitor inputs and PIP source eliminates confusing menus
Power Requirements:

12/24 VDC, 3.0-6.0 A