NavNet 3D - Other NavNet 3D Components - FA30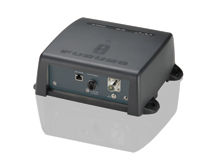 The FA30 Automatic Identification System (AIS) Receiver provides real-time information about AIS-equipped vessels to your NavNet 3D or NavNet vx2, AIS-ready chart plotter, navigation software or radar. The information is graphically presented allowing you to monitor and avoid AIS equipped vessels in your area. The information that the FA30 receives includes the vessel name and call sign, position, course, speed over ground, and other useful information. Since AIS targets can be received even if they are not within line of sight, the FA30 enhances situational awareness in congested waterways, limited visibility or heavy sea conditions, and gives the navigator much more information about AIS equipped vessels.
The FA30 has an Ethernet and a serial port. This provides simple and easy connection by Ethernet to Navnet VX2 and NavNet 3D systems, MaxSea NavNet Navigation software, and the MaxSea AIS viewer PC software that is included with the FA30. AIS capable radar, chart plotters and Non-NavNet versions of MaxSea are interfaced through the FA-30 serial port. The FA-30 will work with virtually any marine VHF antenna. An optional VHF signal splitter is offered to allow the FA-30 to work with an existing VHF radio antenna installation.
Standard Features:
Enhances safe navigation by receiving critical navigation information from local AIS-equipped vessels
Vastly improves situational awareness in any weather conditions including dense fog, darkness, and congested waterways
Dual parallel channel, "Full Duplex" receiver design receives AIS contact messages up to 100% more frequently than "Multiplexing" receivers
High sensitivity, synthesized receiver automatically switches between international and local AIS channels
Optional amplified VHF splitter allows the use of a single antenna for VHF radio and AIS Receiver
Network output to NavNet 3D/vx2 and PCs for added redundancy and installation flexibility
Serial Output for integration with various radar and chart plotter systems
AIS Viewer Software included for on-board PC or land based installations
Bulkhead mounting and low power, flexible DC input voltage design for simplified installations
Receives dual frequencies from 156.025MHz to 162.025MHz

Static Data:

MMSI (Maritime Mobile Service Identity)
IMO number
Ship's name
Call sign
Length and beam
Type of ship
Location of position-fixing antenna on the ship

Dynamic Data:

Coordinated universal time (UTC)
Course over ground (COG)
Speed over ground (SOG)
Heading
Navigation status*

Voyage Related Data:

Ship's draft*
Hazardous cargo
Destination and ETA*
Safety-related messages

Alert:

LED display
Serial data output
Notes:
*Class-A only