NavNet 3D - Other NavNet 3D Components - FI505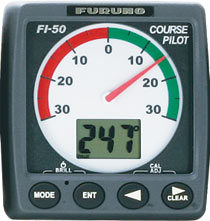 Our professionally designed instrument series is designed to meet the needs of sail boaters and power boaters alike. These units utilize NMEA2000 to communicate with other units. It's single-wire installation and full compatibility with other navigation equipment facilitates an easy plug-and-play installation. Whether you use these instruments by themselves or part of your new NavNet 3D helm, this addition will be both useful and enhance the beauty of your helm.
The FI505 provides a digital compass readout with an off-the-course needle to help you keep steering on an accurate course.
FI505 Features:
Easy to read, high contrast backlit LCD
Automatic backlight sensor minimizes power consumption
"Plug and Play" system utilizing NMEA2000 protocol
Easy installation with hole-saw flush mount
Ideal for mast or bulkhead mounting
Waterproof to IP56 standard
Dual Digital/Analog format display
Displays Current Heading, Locked Heading, Average Heading, and Course Over Ground (COG)