NavNet 3D - Other NavNet 3D Components - NAVPILOT 520/OB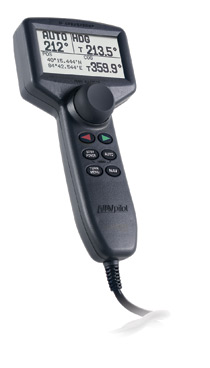 | Display | Power Use |
| --- | --- |
| 3.6" Mono LCD | 12 or 24 VDC |
The NavPilot 520/OB for outboard motors is a handheld control unit that allows for full operation of your autopilot from anywhere onboard. Its clear LCD displays various navigation information to assist you in steering your boat.
Steering your boat straight the first time and every time.
Here's the scenario. You're setting out for your favorite destination, the sun is shining and the sky is as blue as the sea. This is the perfect time to let the NAVpilot steer you straight to your waypoint and let you enjoy the sun and the scenery. No matter if it is a stormy day or a beautiful day, the NAVpilot series is what you need to help you arrive at your destination safely.
Self-learning and adaptive software.
With a standard set of features unrivaled by any other autopilot on the market, the NAVpilot series is perfect for any vessel from sailboats through powerboats and everything in between. Features include:
Auto Mode - one press of a button turns the steering over to the NAVpilot to free you to monitor your radar, chart plotter, etc.
Advanced Auto Mode - utilizing automatic ground tracking control to steer the vessel;
Nav Mode - track control system referenced on a precision cross track error when integrated with GPS navigator
Wind Mode - allows you to control your sailboat while compensating for the effects of wind and tide.
Fishing just got easier with the exclusive FishHunter™(For power boat only).
FishHunter is a unique feature of FURUNO's NAVpilot series. Find a fish target with your FURUNO sonar/sounder or bird target with your Furuno radar and feed it to the NAVpilot. The NAVpilot will activate the FishHunter mode to perform orbit, spiral or figure eight maneuvers around the specified target. This feature can also be used for Man Overboard (MOB).
Standard Features:
High Performance Handheld Autopilot System
Revolutionary "Adaptive" technology continuously improves performance for exact and safe navigation
Standard "Rate Gyro" PG500R compass sensor (Compass Options include Furuno SC Series Satellite Compass, Gyro, etc.)
Four Operating Modes:

AUTO(Fixed Heading Control)
ADVANCED AUTO(Fixed Ground Tracking Eliminating Effects of Wind, Tides, Swells, or Fishing Operations)
NAV(Navigation Track Control)
AUTOWORK(Used For Trolling or Fishing Vessels That May Require Permanent Trim Compensation)

Large 3.6" (viewable area, 160 x 80 pixels) Silver Bright, Hi-resolution graphics LCD display
Proportional Rate Rudder Control(w/Reversing Motor Drive Units) or Solenoid Control
Unique Fishhunter Modes - Execute ORBIT, SPIRAL, & FIG-8 modes directly or remotely from a Furuno TLL capable product
Precision NAV mode XTE Control (.03 NM)
Extensive "Quick-Change" user customizable navigation data and graphical display modes
Various Audible and Visual Alarms including user programmable alarm parameters
"One-Touch" STBY, AUTO, NAV, and DODGE selections
Tactile rotary knob course/menu selection
Multiple Station Capability - Mix & Match up to six Navpilot 500 (FAP5001A), 511 (FAP5011A) or 520 (FAP5021A) displays in any combination
May be configured for various hydraulic or Mechanical Steering Systems
Basic System Specifications and Contents:
FAP5021 Waterproof control unit with 10 meter pigtail interface/power cable, white weather cover, and standard mount hardware
FAP5002 Universal Processor Unit/Junction Box:

Controls Reversible Drive Units or Solenoid activated steering systems drawing up to 50 amps (25 amps continuous)
Two software selectable/nameable NMEA0183 NAV Data input ports and two fully programmable NMEA0183 output ports; additionally, one shared RS232 NMEA0183 I/O port is included
Extra Large Wire Compression Terminals for Power/Motor Connections and "Pluggable" wire compression connections for Navpilot sensors and I/O ports

FAPAR4102 Waterproof Linear Rudder Reference Unit with Outboard Mounting Brackets

FAPAR4102 is designed specifically for the Teleflex HC5345 8" Hydraulic Steering Cylinder
FAPAR4102 features a magnetic sensing design that has no moving parts and is immune to EMI from Fuel Injected Outboards.
FAPAR4102 installs in a protected location behind the HC5345 Cylinder making it much less susceptible to damage from outboard engine raise/lower and fishing operations

PG500R "Rate Gyro" compass sensor with LED Status Indicators and 10 Meter pigtail interface/power cable

PG500R includes one dedicated 6-pin Furuno AD10 protocal 25mS Data Port and one dedicated 6-pin NMEA0183 (0183HS Selectable) Data Port for Heading data distribution to radar, sonar, AIS, etc...(Both Output Ports feature robust RS485 Drivers that may be paralleled to three devices each)
PG500R includes 10 Meter 6 pin-to-6 pin AD10/NMEA0183 Heading Cable for interfacing Furuno 17/18/19xx series Radar displays
Full Control of PG500R is performed through Navpilot Display
Power Supply:
12 or 24 VDC
7 Watts - 1 control head (excluding pump)
36 Watts - 6 control heads (excluding pump)