NavNet vx2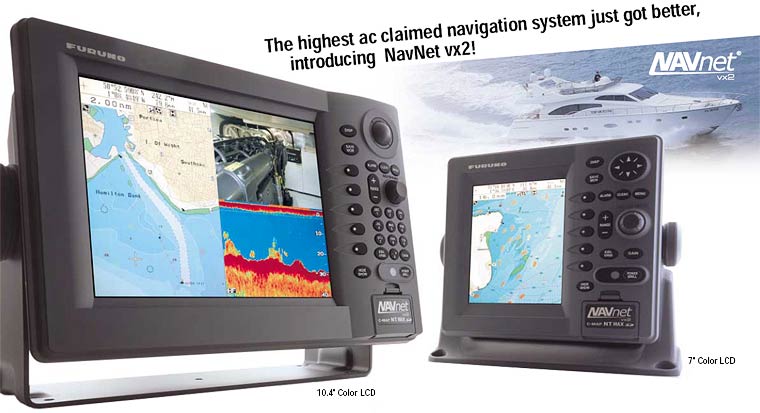 Since its release back in 2001, FURUNO's NavNet series has been enjoying unrivalled popularity worldwide for its high reliability, performance and expandability. It has even been voted Best Integrated Navigation System by the National Marine Electronics Association for three consecutive years. Now, NavNet vx2 is ready to carry on the tradition. NavNet vx2 combines radar, GPS/WAAS chart plotter, fish finder, and network weather facsimile into completely integrated navigation network. Its wide range of options fulfils virtually every desire you may have for your navigation system.
All display units are capable of controlling any component connected to the NavNet network
Perfect for single or multi display installations
Fully supports C-Map NT MAX and Navionics® GOLD chart.
Utilizes SD cards for chart and memory.
Fast chart drawing speed.
Straightforward "Plug 'n Play" installation with wizard style set-up.
AR-coated, high-brightness display unit for improved sunlight viewability.

NavNet vx2 network capability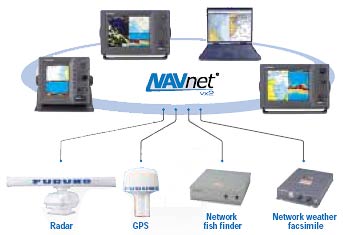 From a stand-alone, single station navigation system to a multistation integrated navigation network, NavNet vx2 lets you build your navigation system according to your needs. Utilizing state-of-the-art network technology, NavNet vx2 provides you with seamless data sharing and vast future expandability.
The heart of NavNet vx2 is its Ethernet-based network that allows multiple displays to be connected. Choose from the 7", 10.4" and the flexible BlackBox, that allows you to match it with virtually any display including our ultra bright 12" and 15" monitors. Interconnect the displays with various navigational sensors and our new MaxSea-NavNet navigational software for a feature rich network that is unparalleled. Stress-free navigation and operation of any component can be performed from any display unit connected to the onboard network.
Building a NavNet vx2 system


Select your display units

You can select your display units for NavNet vx2 from the following: 7", 10.4", 12" and 15" high-brightness LCDs. You can choose either a single- or a multi-station system of up to four displays.

Select additional components

Once you have selected the display units for your system, you can now choose the basic operating equipment of the NavNet vx2 system. NavNet vx2 has four main components including radar, GPS/WAAS chart plotter, fish finder and weather facsimile to create your navigation network. You can create your own network by selecting components according to your needs.

Compliment your system with additional FURUNO equipment

With a variety of optional add-ons, NavNet vx2 can offer you additional useful functions, such as: radar overlay, AIS display, NAVpilot autopilot data and ARPA target tracking. You can even interface it with your PC and MaxSea-NavNet PC software to make it the most versatile navigation network on the market.

7"

Radar antenna

PC software
MaxSea-NavNet

10.4"


GPS/WAAS antenna

Autopilot
NAVpilot series

12" with BB unit

Network fish finder

Heading sensor
SC-50/110, PG-500

15" with BB unit

Network weather facsimile

Nav data organizer/Remote display
RD-30
AIS
FA-100
NavNet vx2 - Radar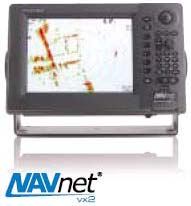 High-performance radar is one of the main components of NavNet vx2. Known for our award winning and reliable radars, the NavNet vx2 radar includes the following features:
Presentation modes selectable from: North-up, Head-up, Course-up and True Motion
Overlay radar targets on chart (appropriate heading sensors required, i.e. PG-500, C-500, SC50/110, etc.)
Auto gain control sEcho trail shows an afterglow of moving radar targets
Automatic radar plotting to track up to ten targets (Not available on stand-alone 7" models, unless part of a network incorporating 10.4" or BlackBox models with ARP-11 installed.)
Radar Guard Zone alerts you to potential danger
Energy saving Watchman feature
Dual EBL (Electronic Bearing Lines) and dual VRM (Variable Range Markers) give distance and bearing to targets
Off-center display allows you to focus on a specific area
Customizable color presentation for night-time operation
Echo trails
This feature displays afterglow of all the targets to show their tracks. It helps you foresee their heading directions at a glance. Its trail duration is adjustable among 15, 30 s, 1, 3, 6, 15, 30 min and continuous.
Radar overlay
Radar targets can be overlaid onto the electronic chart so that you can better recognize what's around your vessel by referencing the target locations on both the chart and the radar.
Automatic radar plotting (ARP)
Up to ten targets can be simultaneously acquired and tracked to show you the heading direction and speed of the targets.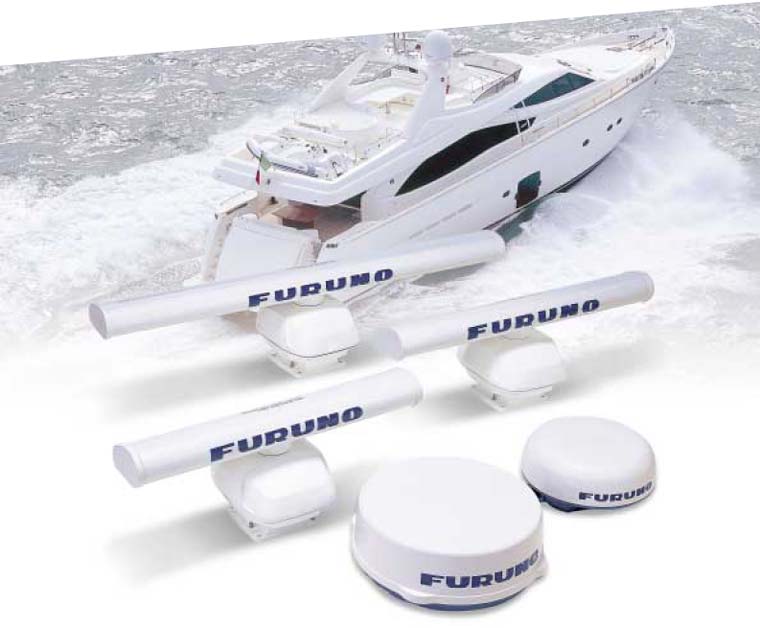 Radar Antennas
NavNet vx2 presents a wide range of radar antennas that offer unparalleled performance to suit a variety of your needs. Powerful X-Band transmitters offers detailed target detection. While the compact 2.2 kW and 4 kW radomes offer the maximum range of 24 and 36 nm respectively. High performance open arrays offer longer detection ranges.

Open antennas

Selectable from 4 kW (3.5'), 6 kW (4'), 12 kW (4/6') and 25 kW (4/6') models
Narrow horizontal beam width enhances target identification and ensures detection of smaller targets
Longer range scales of up to 72 nm
High power output for enhanced long range performance

Radomes

Selectable from 2.2 kW (18") and 4 kW (24") models
Stylish, compact and lightweight units
Simplified installation
Modest power consumption
Open Antennas
Radomes
Output power
4 kW
6 kW
12 kW
12 kW
25 kW
25 kW
2.2 kW
4 kW
Size
3.5 ft
4 ft
4 ft
6 ft
4 ft
6 ft
18 inch
24 inch
Beam width
Horizontal
2.2°
1.9°
1.9°
1.2°
1.9°
1.2°
5.2°
3.9°
Vertical
22°
22°
22°
22°
22°
22°
25°
20°
Maximum range
48 nm
64 nm
72 nm
72 nm
72 nm
72 nm
24 nm
36 nm
Optional 48 rotation
Available*
Available*
Available
N/A
Available
N/A
N/A
N/A
*BlackBox models only
NavNet vx2 - GPS/WAAS Chart Plotter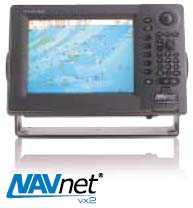 Working in perfect collaboration with the NavNet vx2 radar is the GPS/WAAS chart plotter. It shows your exact position and offers a variety of display modes that allow you to organize your nav data with unparalleled ease.
C-Map NT MAX chart NavNet vx2 accepts the C-Map's new NT MAX charts. The NT MAX unique features include live nav-aids, tidal flows, local street maps, photographs of harbors and perspective view in addition to grounding alarm (Guardian Technology™).

Live nav-aids (Flashing buoys/Light houses)
Tidal flows
Local street maps
Flashing buoys and light houses are displayed with only visible sector colors according to boat's position.
Intuitive arrows show direction and strength
Coastal roads, land elevation contours, airports and other land objects included in major port areas.
Photographs of harbors
Perspective view
Grounding alarm (Guardian Technology™)
Photographs of major harbors and nav-aids are included
Continuously scans the chart data in front of the boat to detect dangerous objects (land, rocks,..).

Navionics® GOLD chart


Navionics® GOLD charts offer "objectoriented" color rich presentation with superior clarity and detail. The "Xplain" feature translates every navigational symbol into an easy to understand description. The IC™ (Intelligent Clarity) feature that automatically filters on-screen presentation at every zoom level to offer a clear, uncluttered display of all essential nav data.
NavNet vx2 - Fish Finder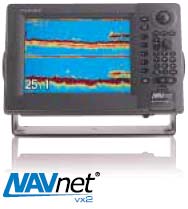 For years, Commercial Fisherman have relied on FURUNO's fish finding technology to help them make a living. FURUNO's network fish finders implement the same tried and true fish finding technology that is used in our commercial-grade fish finders. Plug a network fish finder into your NavNet vx2 system and it turns any display in the network into a high-performance fish finder.
Variety of presentation modes: Marker Zoom, Bottom Discrimination, Bottom Expansion, A-scope and many more
FURUNO Free Synthesizer (FFS) transceiver on the ETR-30N allows you choose any two operating frequencies from 28 to 200 kHz
Two selectable automatic gain control modes: Cruising and Fishing modes match your style of boating
Wide output power range selectable from regular 600 W to powerful 3 kW
Two pages of fish finder images can be stored and displayed
FURUNO Free Synthesizer (FFS)



The ETR-30N employs the FURUNO Free Synthesizer based on the professional fish finder FCV-1200L, which allows you to operate a fish finder in any two operating frequencies from 28 to 200 kHz without a matching box. This transceiver gives you the flexibility to choose your operating frequencies for more productive fishing. Output power can also be selected among 1, 2, and 3 kW to suit a variety of situations.
NavNet vx2 - GPS/WAAS Chart Plotter
Network weather facsimile receiver
The network weather facsimile FAX-30 receives weather map images and NAVTEX messages. The images and messages can be displayed on the 10.4" or BlackBox models.
Up to 12 pictures can be stored in memory
Programmed with all currently existing facsimile stations and frequencies: up to 320 channels storable
Presentation in monochrome, 16- gradation gray scale or color (three patterns of color presentation are available)
Built-in NAVTEX receiver (490 kHz and 518 kHz) in which up to 130 messages can be stored
Interface with AIS NavNet vx2 lets you integrate AIS (Automatic Identification System) into the network with an optional component. Information for up to 100 AIS targets can be displayed on any networked unit. This integration provides you with a solution for observing other vessels. (AIS receiver required)
Display up to 100 AIS equipped targets information (the information is displayed in the AIS data cell)
Indicate the state of targets with five symbols

Interface with the


NAVpilot When the NAVpilot is added onto the network, you can set the destination and course to steer on the plotter mode, and transfer the course information to the NAVpilot. The NAVpilot will do the rest, steering your craft automatically to the destination. You can set the course and steer your craft from the NavNet vx2.
NavNet vx2 - MaxSea-NavNet PC software
Defining the cutting-edge of applied information technology, MaxSea-NavNet software is a powerful navigation tool for boaters who are looking for a user-friendly interface and a more comprehensive navigation system.
MaxSea-NavNet software offers increased efficiency at sea by using its exclusive capabilities, such as seamless chart displays, advanced weather forecast overlay, real-time three dimensional images of the seabed (Personal Bathymetric Generator) and many more. Intuitive operation of MaxSea- NavNet is achieved by its user-friendly interface and graphical tool palette. MaxSea-NavNet presents the ultimate solution to navigational data management.
Sharing C-Map NT chart data as well as all the navigation data within the NavNet network
NavNet provides MaxSea-NavNet with radar, fish finder and essential navigation data from various networked sensors.
Full control of NavNet
MaxSea-NavNet offers full control of the NavNet display, such as radar range, gain/STC control, etc., in addition to handling the navigation data to display in a diverse range of formats.
2D/3D ground discrimination function allows boaters to see the Bottom Roughness, Hardness and Classification overlaid with MaxSea 2D/3D charts*
3D chart data conversion with C-Map NT chart*
ARPA radar target tracking capability*
AIS transponder compatibility*
* Optional modules that may require additional equipment
Interface with the NavNet system
The MaxSea-NavNet software is capable of combining and analyzing data from multiple sources in real-time. Fully integrated into the NavNet system through a high-speed Ethernet network, MaxSea-NavNet facilitates the complete integration between the PC and the NavNet network, sharing information from the radar, GPS, echo sounder and other nav data within the NavNet system. A variety of display orientations can be selected to meet your needs.


MaxSea-NavNet radar overlay
MaxSea-NavNet provides the highest quality electronic charts available as the basis for its radar overlay. MaxSea- NavNet overlays the full radar image at the same scale and creates a dramatic improvement in accuracy and clarity. MaxSea-NavNet radar overlay gives you amazingly detailed images. The range of color and transparency of the overlay guarantees that the chart is not hidden. This allows for the confirmation of precise positioning relative to the chart and clearly reveals any inconsistencies.
The unique overlay system optimizes data visualization
Using MaxSea-NavNet's multiple "overlay" system, various layers of information can be superimposed on the screen. Each overlay contains different types of data, such as tracks, marks, hazards, wrecks, ports, currents, water temperature, etc. Based on the needs of the moment, a single click can make each layer visible or invisible, eliminating irrelevant information and clearly showing objects of interest.
Optional Personal Bathymetric Generator (PGB) clearly shows the contours of the bottom
Connected to the network sounder and GPS, MaxSea-NavNet PBG records the position and the depth as your boat proceeds, which enables you to create 2D and 3D charts with pinpoint accuracy in realtime. With a single click, MaxSea- NavNet PBG will be activated to give breathtaking real-time 2D and 3D images of the seabed.
SYSTEM REQUIREMENTS
Your PC must meet the following system requirements in order to work with MaxSea- NavNet. Please verify these requirements before installing.
Windows® 2000 or XP
800 MHz processor
CD-ROM drive – for installing MaxSea-NavNet
Serial or USB port(s) – for connecting navigation equipment (An adapter must be used for USB connections – see the section on connecting equipment for more information.)
700 MB of hard drive space
Graphic card: 32 MB (64 MB recommended)
Network facility required
NavNet vx2 - Display Unit
10.4"/7" display unit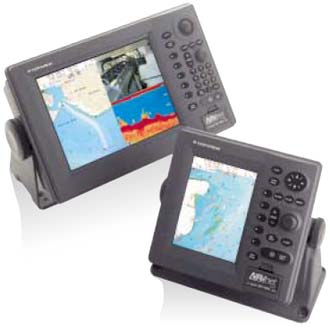 NavNet vx2 provides you with a multi-station option for your navigational requirements. Two types of display units are available: 10.4" and 7" high brightness, sunlight viewable LCD's. Excellent all-round presentation with a wide viewable angle, VGA screen resolution ensures a superbly detailed picture.
High-brightness LCD viewable under direct sunlight
Enhanced visibility with Anti-Reflective (AR) coating to cut down annoying glare
Common user interface for compatibility among the display units networked
Easy operation using a trackball* and rotary encoder (*for 10.4" models)
Multi-station networking of up to four display units
Simple connection between each sensor and display unit
Analog RGB video output available for remote monitoring (for 10.4" models)
NTSC/PAL input available for displaying video images from onboard TV/VCR/DVD player (for 10.4" models)

12"/15" LCDs with BlackBox unit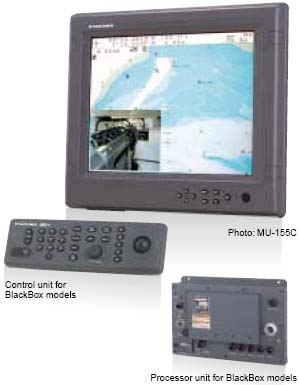 FURUNO MU-120C/155C LCD units can be used as display units for BlackBox models. When connected to BlackBox models, the MU-120C/155C offers the same functions as the 10.4" display unit on top of its exclusive functions. BlackBox models also can work with commercial monitors.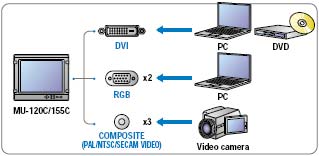 NavNet vx2 - Network Sensors
Whether it is the radar and GPS/WAAS antennas that connect directly to the NavNet vx2 displays or the optional network sensors that connect through the Ethernet network, all of the data obtained from each sensor can be shared by every display on the network. The beauty of NavNet vx2 is that you can start with a single unit and expand its features as needed.
Radar antenna
Each NavNet vx2 radar comes with a commercial-grade FURUNO antenna. The output power of the antenna units ranges from the sleek 2.2 kW radome to the powerful 25 kW open array.
GPS antenna
Simply by plugging the GP-320B GPS/WAAS receiver antenna into any NavNet vx2 display, all the displays networked can show highly accurate position data.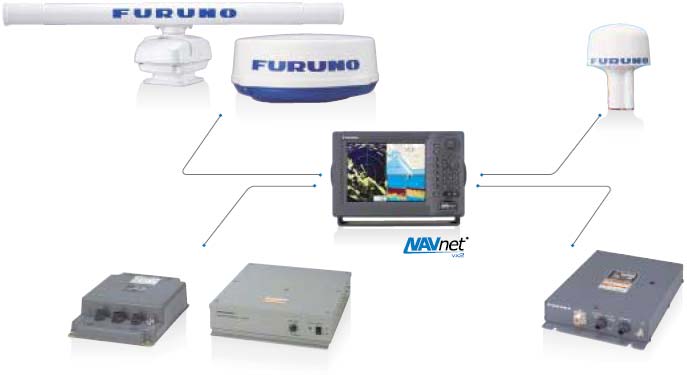 Network fish finder
The network fish finder can be plugged into any display or a Hub to turn the NavNet vx2 display into a high-performance dual-frequency fish finder.

ETR-6/10N-BBFF1
Frequency: Dual-frequency 50/200 kHz
Output Power: 600 W/1 kW rms
Basic Range: 8 range scales to 2,500 ft
ETR-30N-BBFF3
Frequency: Dual-frequency selectable from 28/38/50/88/107/200 kHz
Output Power: 1/2/3 kW rms
Basic Range: 8 range scales to 3,600 ft
Network weather facsimile
The FAX-30 is a network weather facsimile receiver that works with 10.4", BlackBox models or a PC to display weather maps, satellite images, NAVTEX and other navigation information.