TracPhone® FB150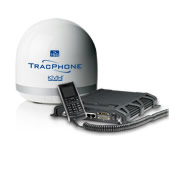 A new generation of fast, reliable, and affordable satellite communications for voice, SMS, and broadband data
Bringing true broadband Internet connections along for your next trip to sun-drenched harbors and distant locales with KVH's new ultra-compact satellite communications system – the TracPhone FB150 with Inmarsat FleetBroadband service.
The TracPhone FB150 antenna is the smallest in KVH's family of Inmarsat FleetBroadband-compatible TracPhone systems, perfect for leisure boats as small as 40 feet. The fully stabilized TracPhone FB150 offers IP data connections up to 150 Kbps and simultaneous voice and SMS service, all via Inmarsat's trusted FleetBroadband network with its new I-4 satellite constellation offering you service for the next 20 years and beyond!
Rely on broadband data to help save time and fuel while spending less time in the harbor and more time out on the water. Enjoy access to weather data, sea conditions, chart updates, friends, family, and the office. For the first time, broadband at sea is small enough and affordable enough for you to rely on wherever you cruise. And it's all brought to you by KVH and Inmarsat, the leaders in maritime broadband.
Check out KVH's complementary TracVision M1 Satellite Television System, with the same size and styling, for the perfect match on your boat.
Highlights:
Compact design for easy installation and simple below-decks connections to your computer and phones
Global coverage via the brand-new Inmarsat I-4 satellite constellation, ensuring 20+ years of reliable service to vessel owners around the globe
Broadband data rates as fast as 150 Kbps
Global coverage for simultaneous voice, data, and SMS text messaging
Rugged, reliable design to survive the marine environment
1 $19.95 monthly access fee will apply.
2 KVH's Velocity™ Acceleration software boosts uncompressed FleetBroadband data rates by as much as 200%. Velocity Acceleration is available with Inmarsat Airtime by KVH. Rates using Velocity Acceleration may vary based on content being transferred.